Back
08.03.2020
"As an entrepreneur, I enjoy the challenges"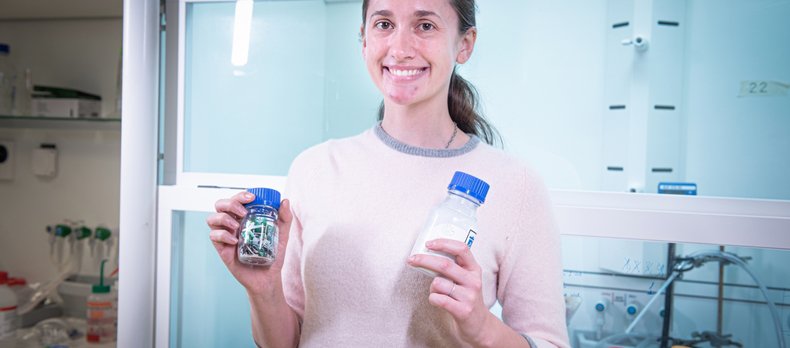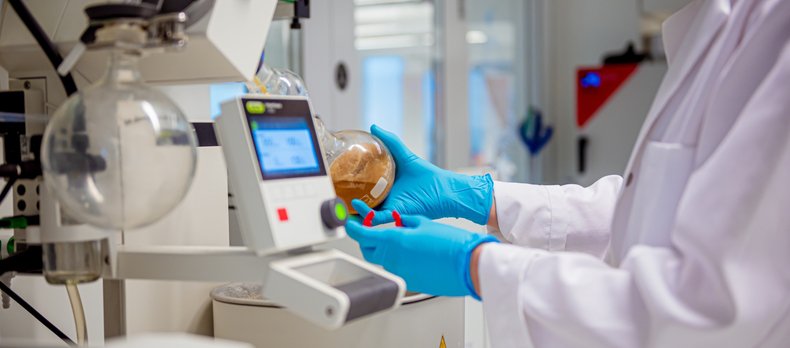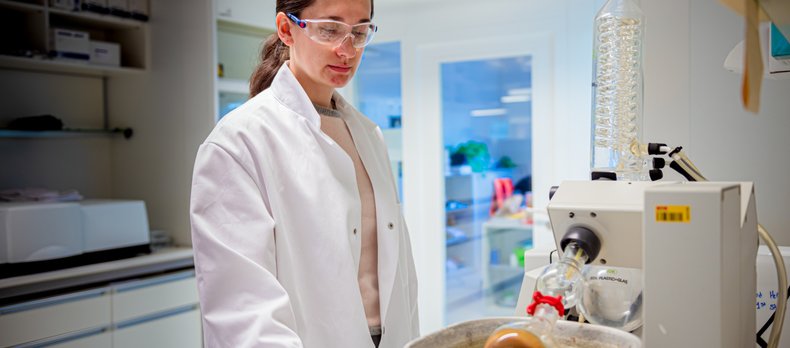 The start-up DePoly, based at Campus Energypolis in Sion and supported by The Ark Foundation, is one of the most promising start-ups in Switzerland. Its chemical PET recycling technology is revolutionizing PET recycling and promoting a circular economy. On the occasion of the International Women's Rights Day, we met its co-founder, Samantha Anderson. She talked about her company, but also about her links with entrepreneurship.

Samantha, what's your professional background?
I have my Ph.D from EPFL where I worked with MOF materials, and a masters from Queen's University in Kingston (Ontario, Canada) with a focus on organic chemistry. During the course of my academic degrees I took some courses on patenting, bringing reactions from a lab to industry, as well as Venture Kicks Kickers Camps, and Venture Lab courses.

How did you get the desire to become an entrepreneur?
At the end of my Masters degree I hit a point where I wanted to do something outside of Academia, and loved the idea of bringing something from a lab to industry. I have also always wanted to do something related to chemistry and that makes an impact on the world or helps solve a global problem.

What do you like about being an entrepreneur?
I like the problem-solving aspect to it, the challenges, and the never-ending learning that comes along with being an entrepreneur.
As a woman, what are the advantages and difficulties you have encountered since the beginning of the DePoly adventure?
I think overall I haven't had too many challenges with being a woman entrepreneur, I feel like the community has treated me just like everyone else. Advantages are really dependent on what you're doing at the moment, for example sometimes women will have a higher chance of going through to interviews for grants, but in the end people are looking at your business and if they think it's viable.

How did your entourage react at the beginning of your entrepreneurial adventure?
My coworkers and Prof. at EPFL (LSMO) were all super supportive, same with my family and friends.

Would you have changed anything in your current career path?
If I had known I was going to be where I am now, I maybe would have tried to take more courses during my academic career to help me now.

What is your message for the new generation of female entrepreneurs?
Take the good days and the bad days as they come but when you have bad days, learn something positive from them. And if you believe that your idea is going to be successful, then go for it! There is a large community that is ready to support you and your journey!

What support have you received from The Ark Foundation?
We've had a lot of support from The Ark since the beginning, ranging from how to take our first steps out of the lab, to long discussions on financials. All which were super valuable, and super helpful to getting a complete picture of our business and learning our weak spots so that we could adapt and fix these issues.
You will also find below the filmed interview of Samantha Anderson, which explains DePoly's activities in more detail.